Oven Cleaning Service in Walthamstow Done by Experts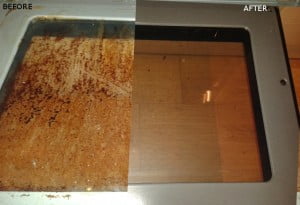 If you need a professional oven cleaning company, Maggie's Oven Services is the one to call. The technicians we work with are multi-skilled, experienced in various appliance cleaning services, and always arrive with professional tools and cleaning supplies. Spend your time however you want rather than in unbearable hours of oven cleaning. Trust our endorsed oven cleaning service in Walthamstow and forget all about your worries!
Expert Oven Cleaning Service in Walthamstow
The technicians are completely trustworthy and highly skilled. That's why they'll take care of your oven so that you do not have to worry about it anymore. Upon arriving, the specialist will first put on some protective footwear and cover the floor area around your cooker with a protective mat. He'll then remove all the oven parts that can be removed and soak them in a special cleaning solution. The scrubbing of your oven will then begin, removing all the grime and food particles that have built up over time inside the appliance. Then, the outside of your kitchen appliances will be polished to a shine. Next, he'll put the well-polished and cleaned elements back inside the appliance and conduct a quick test to ensure that your appliance functions correctly.
Discover The Amazing Benefits You Get With Our Oven Cleaning Service in Walthamstow
Our professional oven valeting services in Walthamstow are backed by years of experience and the necessary cleaner endorsements. Alongside come the results of our work, which you will certainly benefit from:
Fully-vetted trained technicians - we send trusted and reliable professionals that can comply with all your specific needs.
All cleaning solutions and equipment provided on-site.
We'll help you save time and effort.
You can have your microwave or fridge cleaned on the same day as your oven.
Your oven will work more efficiently.
Our team is fully insured against damage.
Eco-friendly service - we use professional washing detergents, to assure you that our work is pet-friendly and pregnancy safe.
Your stove is safe to use right away and you can start cooking.
Service available every day.
24/7 customer support.
Free oven liner for every oven cleaning customer.
Full Walthamstow coverage. You can also find us in Tower Hamlets, Hackney, Bow, Bethnal Green, Chingford and more.
Hire professional oven cleaners in Walthamstow and do the things you love
Our cleaning process includes the dip-tank method. It consists of taking apart the portable parts of the oven and soaking them in a powerful cleaning solution. This allows the complete removal of any dirt and burnt-on deposits. Meanwhile, we deeply scrub the cooker cavity. When all is dry and polished to a shine, we put the parts back and inspect the proper work of the cooker.