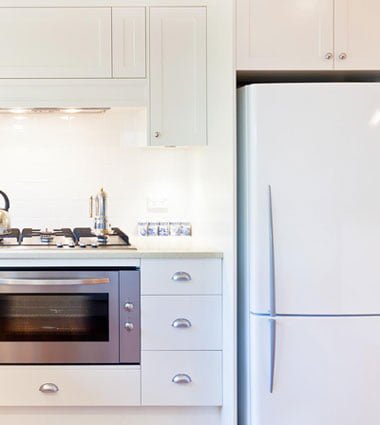 This is how we make your kitchen appliances gleam
Professional fridge cleaning service in London and UK:
The technician will inspect the appliance to determine if it functions properly.
He will cover the area where the appliance will be cleaned with protective plastic sheets to avoid a possible mess.
All removable parts of the fridge are taken out.
The appliance is partially disassembled, some components might be detached, and all areas are cleaned from the inside and outside. Special detergents and deodorisers are used during the fridge cleaning.
When all parts of your fridge are cleaned to perfection, the specialist will assemble it and turn it back on.
When the service is over, the technician will ask you to inspect the fridge yourself so you can see the difference, and fill in a job completion & evaluation form if you are present.
Additional information:
For optimal results with fridge and freezer cleaning, we ask you to defrost yours the night before your appointment.
Your appliance will be ready to use right after the service.
If you can't be at home while the service takes place, you'll be happy to learn we do key pickup and delivery within a few minutes of the London address.
And in order for the service to take place, the technician will require access to hot and cold running water as well as electricity.
A fixed price for all appliance no matter how dirty!