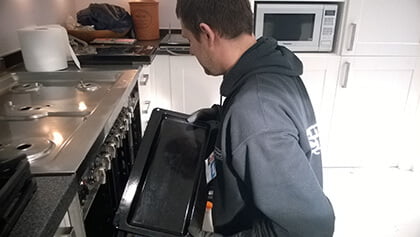 Green living is easier when your beautiful kitchen is also sparkling clean. Let us help you with this by cleaning your stove and all your kitchen appliances.
Our oven cleaning service in Tower Hamlets E1 is time-saving and provides excellent results.
Professional oven cleaning service in Tower Hamlets
Stimulating a healthier lifestyle
You might think your oven is clean, but do you have any idea about the bacteria and mould living in your stove? Each time you use your oven and skip the cleaning you put yourself in danger. During cooking your oven releases vaporized steam containing fat cells which stick to everything. After cooking, this steam cools down and turns into grease. The best way to clean your oven is by hiring a professional. Our detergents are believed to be the best on the market and can remove even the most stubborn melted foods, stains, mould… in short, anything that you might find in your oven. By using our service, you can relax knowing that your stove will be cleaned properly and prevent the growth of harmful micro-organisms. Protect yourself and your loved ones with regular cleaning of your stove and cookware. The professional cleaners we send have extensive experience and training that is rarely found in other companies. The commitment to high-quality service and complete customer satisfaction is what sets us apart, and makes our customer's kitchen gleam again. Our dip tank cleaning method combined with high standard detergents can remove any harmful bacteria, rust and formed mildew. After rinsing with water, there are no traces of detergent or any damages on the oven or the removable parts. Choose us as your professional oven maintenance in Tower Hamlets E1, and make your food taste delicious again.
Free inspection prior to the service
Every appliance we service is being inspected prior to the cleaning for any functional disorders.
No mess service
The professional oven cleaners always take out their trash and wipe the area around the stove after they're done. This way your kitchen gets both an oven maintenance service and some kitchen cleaning at the same time. The cleaners will use overshoes inside the house and cover the area near the stove to protect it from grime and accidental detergent spilling.
Improved energy efficiency
Whether you've got a double oven or beloved, high-end Range cooker, it's important to adhere to regular cleaning and maintenance schedules. Thoroughly wiping down the oven in between use periods will slow the rapid formation of grime but won't eliminate it. For appliances that see increased use, we recommend twice-yearly cleaning and maintenance appointments.
Full range of kitchen appliance maintenance
Professional oven cleaning services can be combined with other appliance cleanings. Clients often book a combo cleaning package which includes extra appliances like fridge, extractor, dishwasher, hobs, microwave and more.
You can save more with our individual quotes
The individual quote is calculated based on your needs and according to your requirements. When calling our customer service lines, you will get an immediate answer to any questions you may have.
Fully insured professional oven cleaners in Tower Hamlets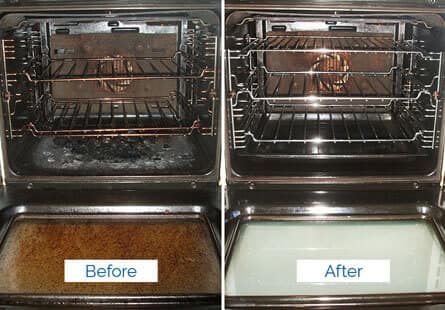 Trusting a professional cleaner to perform an oven valeting service is the best decision you can make. The oven cleaners we work with in Tower Hamlets are fully vetted and insured. They follow a strict valeting procedure at all times during the service and make sure your appliances and kitchen are safe from damage. They always wear overshoes inside your home and at the end of the service throw all their trash away.
We also work in Chingford, Leytonstone, Poplar, Hackney, Walthamstow and more. You can take advantage of all our services in those areas, including fridge and other appliances cleaning, BBQ cleaning, AGA cleaning, and deep kitchen cleaning.
Booking Details and Extras for Oven Cleaning Services in Tower Hamlets E, EC
Instant online quotes
Regular kitchen appliance maintenance
Affordable price; 24/7 call centre and chat
Free online booking form which shows real-time availability
Free oven liner for every customer.