Remember in one of our last posts we mentioned how different conventional and AGA cookers are?
At Maggie's Oven Services, we decided to take it a little further and explain to you, more in depth, what are the actual pros and cons of using both cookers. As with every other tool, they have their strengths and weaknesses, which you will need to know when deciding on what cooker to get your hands on.
Behold The AGA Cooker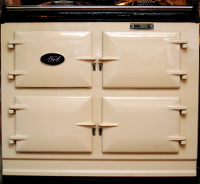 Cons of AGA Ovens:
You have to get used to it first.
You need to invest in quality kitchen cookware.
Fat gas bills are on their way.
You may need a conventional oven as well if you can't stand the summer heat.
Owning two ovens requires a lot of space.
AGA ovens are extremely expensive.
You Have to Get Used to it First
Almost all of our clients who own an AGA mentioned they found it a bit hard to get used to the cooking technique required when cooking in AGA.
Special rules apply, and you will need at least a few months to get used to cooking in an AGA, as this cooker is very different from your conventional oven.
Once you get used to it, though, using an AGA oven will change the way your whole household functions.
Quality Kitchen Cookware Requires Investments
Good quality tools will last you a really long time, but they are also very pricey.
Think of it as a good investment, though, as not only it will stand the test of time, but will also protect your AGA and will give best results.
Fat Gas Bills are on Their Way
Don't fool yourself – in order to get the most of your AGA oven, it has to be turned on all the time. And by "all the time" we mean literally all the time.
Fact is, AGA's will heat the kitchen, and you can even heat your whole house with the oven. Not turning it off will cause bills to rise, and you may find it way bigger than the previous bills you've had to deal with.
Takes way more time to heat than the conventional oven, which can be quite inconvenient, especially if you're in a rush.
That's, of course, if you turn your oven on and off when needed.
You May Also Need a Conventional Oven if You Can't Stand the Summer Heat
Having it on during the hottest days will be unbearable, and you may decide to turn it off for a few weeks.
Owning Two Ovens Requires A Lot of Space
So, you better think this through before you end up cooking your stake in the microwave.
AGA Ovens are Extremely Expensive
They can cost you more than £10,000, depending on the style and size and the expenses will keep rising. Go up to the third con.
Pros of AGA Ovens:
There is no other oven that will give you the same food taste.
You can use it for other purposes, not only for cooking.
AGAs are the focal point of the kitchen and your home.
AGAs are always ready for you to use.
No other Oven will Give You the Same Food Taste
Literally. All the AGA owners we've talked to can't think of separating from their ovens and the amazing casseroles you can cook in it. Slow cooking is probably one of the biggest pros these ovens have for you.
You Can Use AGAs for Other Purposes, Not Only for Cooking
You can even dry your clothes using the AGA. Plus, you'll never have to iron, as folding wet clothes and putting them on the oven will make them perfectly ironed.
AGA's are the Focal Point of the Kitchen & Your Home
You'll get a lovely warm welcoming in the room, which you can only get from this kind of oven. Your pets will love it too, as many like to cuddle around it and warm up. It's the perfect spot for your kid's afternoon as well, as they can do their homework while you cook and do your chores.
AGA Ovens are Always Ready for You to Use
Most of the AGA owners keep their oven on all the time, which is very convenient for stay-at-home mums or people who work from their home. That means you can benefit from cooking, pre-heating and all the other things your AGA can do for you throughout the whole day without waiting for it to heat up.
AGA Cookers are Beautiful
If not for all the reasons above, people buy AGAs simply because the way they look.
Luxury and traditionalism in one, these ovens show very particularly the financial status of a home and have been a favourite of many. AGA's are recognisable, arty and posh.
The Conventional Oven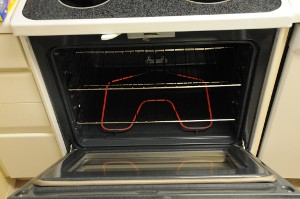 Cons of Conventional Ovens:
Conventional ovens are notorious for uneven baking,
AGAs bake a single piece a time.
AGAs require longer to cook
AGA cooking options are limited.
Conventional Ovens are Notorious for Uneven Baking
You can experience it quite often and the reason is well known – there is no air circulation in this type of ovens, because they rely just on the heat from the walls of the oven.
Check out our post on how different types of ovens work, as we've mentioned aga's and conventional ovens there as well.
Conventional Ovens Bake a Single Piece a Time
Most of the times, you can bake only one piece at a time, which can be annoying, especially if you have used a range before and you have experienced the convenience of cooking three meals at a time for example.
Conventional Units Require Longer to Cook
That results in more time to cook as well, as cooking a few meals at once definitely saves time. Owners of conventional ovens know the pain of having to cook two or three meals in a row, being bonded to the oven and not being able to get other chores done.
Regular Cooking Options are Limited
As the range can cook, roast, bake, pre-heat and even more, the conventional oven is far from these options.
So, flexibility-wise – conventional ovens loose.
Pros of Conventional Ovens:
Conventional ovens are the easier option when following recipes.
More and more ovens come with a fan now (convection ovens)
Using one with fan will cause a messy oven.
Conventional Ovens are easier When Following Recipes
Usually, time suggested in the recipe is based on using conventional ovens, so novice cookers may consider investing in a conventional oven first.
More Ovens Come with a Fan now (Convection Ovens)
This drastically changes the food quality when using them, especially when baking cakes and meat.
The conventional ovens are great for baking meals with more liquid ingredients
Using Ovens with Fans Causes a Mess
Choosing an oven is tricky, as you can see, both AGAs and the conventional ones have their benefits and downsides.
At the end of the day, it all depends on your household's personal needs. Whatever you need though, an oven is a definite must for any home.